Goodbye Onslow - actor Geoffrey Hughes dies aged 68
posted: July 29, 2012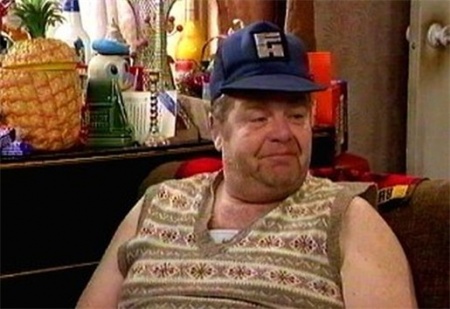 Sad news, as British actor Geoffrey Hughes lost his battle against cancer today. Back in 1996, when he was playing Onslow, Hughes was diagnosed with prostate cancer yet he made a full recovery in 2009.
Alas, the cancer returned in 2010. Doctors said that he died peacefully in his sleep, after a long and brave fight as stated by his family.
Those who know me know that I'm a big fan of British comedy, and that Keeping Up Appearances ranks high on my list of favourite comedies. It's also the comedy which introduced Geoffrey Hughes on television here in Flanders, where we all know him best for his role as Onslow, Hyacinth's not-so-favourite brother-in-law.
After glancing over his IMDB page, it turns out I've actually seen him star in another role, playing Fred Kendall in You Rang, M'Lord (another series I'm quite fond of). On that same page I learned that Geoffrey Hughes was a well-known actor, having starred in no less than 59 movies and TV-series!
Personally though, I'll always remember him as Onslow, sitting in his favourite chair ("completely surrounded by no beer"), eating crisps, and watching the telly all day. And even though he's living his lazy life in a house that has seen better days, doing next to nothing all day long, be honest... Wouldn't we all like to have a friend like the relaxed, laid-back Onslow Hyacinth so despises?
I'll leave you with this last bit of trivia I also found on IMDB: remember that hat Onslow always wears on the show, with the letters "FH" on them? They stand for Fulton Hogan Ltd., a New Zealand asphalt and roadbuilding company. When he was there to promote a show, one of the lorry drivers gave him that hat.
Goodbye Geoffrey - you will be missed...