John Higgins versus Judd Trump (World Championship Snooker 2011)
posted: May 3, 2011

After watching the BetFred.com World Championship snooker final yesterday evening, it was a bit too late to post an article, but what an epic final it was: I've enjoyed every single minute of it!
For the past two weeks I have tried to follow every frame & match I was able to see (time permitting), slowly living up to the final. Given that I'm a big fan of John Higgins, you can imagine I was quite happy to see him reach the final.
Meanwhile, Judd Trump (a player I did not know that much about, I even had to look up his nickname!) had been playing some brilliant snooker to reach the other available final spot, but I had some doubts about his chances in the final. Man, was I mistaken!
Having watched Judd reach the final, it was clear for everyone to see that he really is a talented snooker player, with an aggresive yet super-efficient style of playing. Some of the shots he played over the past weeks were truly amazing, and even unseen in the modern game. His long-pot/combined-safety shots are already the stuff of legend, and people are already comparing him to the likes of Alex Higgins and Jimmy White in regards of flamboyant playing style!
There was no doubt in my mind that he truly deserved to be in the final - however, I feared that it would be his (too) attacking style of play that would be a real disadvantage against a master tactician like John Higgins.
Picture of John "the Wizard of Wishaw" Higgins at the table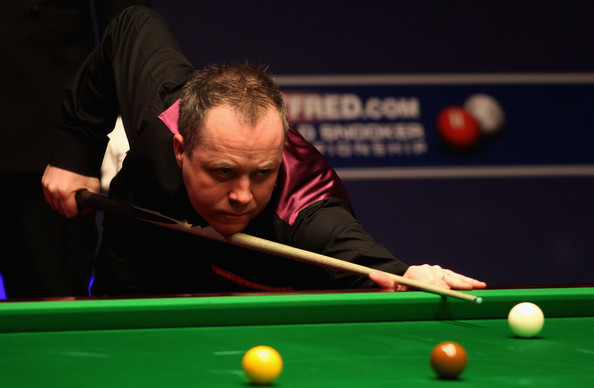 To be honest, I expected Judd to make quite a few sizable breaks (centuries, surely), and even gain the advantage on John Higgins, only to run into a wall at some point, where John would take over and dominate the game further on with similar breaks and his well-known excellent safety play. Basically I saw the same scenario again, which happened to Ding Junhui a few years ago: he stormed into the finals, only to run into an awesome Ronnie O'Sullivan.
Fortunately I was wrong: instead of the dreaded white wash, or a match that would completely swing Higgins' way, we were all treated with what can only be described as one of the best finals in the history of the Crucible. There were three centuries - not that much compared to other finals and earlier stages, but the tactical part of he game was much more outspoken (I like centuries, but I absolutely love these epic battles).
Picture of Judd "The Ace" Trump at the table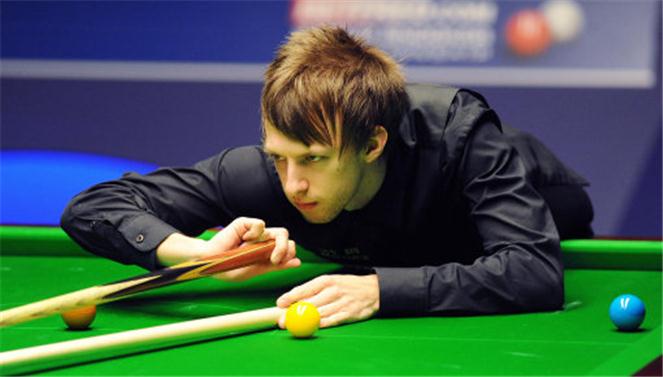 At a certain point John Parrot mentioned the fact that Judd Trump was playing snooker as if he was practicing in the club, given his attacking style, the fact that he didn't seem (too) fazed by the atmosphere of crowd, the stress of being in the final, and the prize at stake.
Still, there was also a downside: even though I'm a Higgins fan, I have to admit that Judd Trump deserved the title as well. Having played so well the past two weeks, standing his ground against one of the best, and playing such a quality game, it wouldn't have upset me to see him lift the trophy. A worthy adversary, methinks.
But there had to be a winner, and after a very risky shot by John Higgins which almost went wrong, some safety play from both players, a daring double by John and a great black under pressure, the end result was there: an 18-15 victory for John Higgins, and the trophy of course!
Picture of John Higgins holding his trophy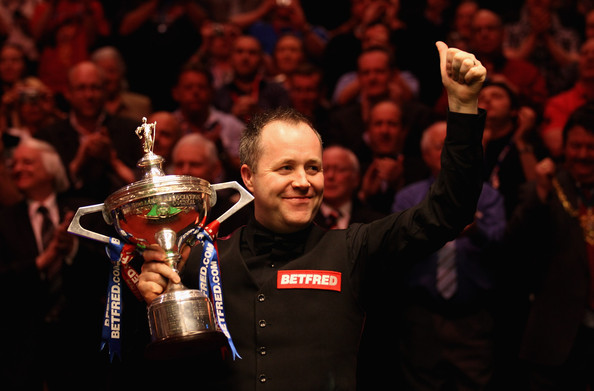 Cheers to you John, for winning your fourth World Title (I even read an article today in which he stated he's aiming for Hendry's record, the magic seven), and we'll certainly see more of the new revelation of snooker: Judd Trump. If this is the way more and more matches are headed, I'll be glued to the television during the matches to come...